Get Healthy for Heaven's Sake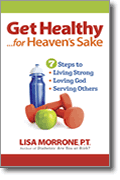 People's bodies are breaking down and "giving up the ghost" long before their Creator intended. The lack of wellness in the Church today blends in with the standards of the world—and it's not a pretty picture. Are you beginning to feel the affects of your own neglected or abused physical health? Join Lisa as she takes you on a journey to wellness by sharing the life-giving health practices she's employed during her two decades of treating patients. Her message will equip you to:
Maintain the focus and fitness to maximize your calling.

Lose weight by eating high-powered foods.

Get a good night's sleep to reverse aging and promote healing.

Protect your discs, bones, and muscles from wear and tear.

Decrease the debilitating effects of aging on your mind.

Live long and serve strong into your sunset years.
Get it at Amazon.com
Get it at ChristianBook.com