Diabetes.  Are You At Risk?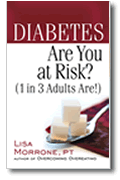 There is a silent, but deadly epidemic sweeping our nation—sugary blood! One in three adults has diabetes or pre-diabetes, and only a fraction of them know it! Lisa has developed an easy-to-follow plan designed to help you avoid this hidden killer which is claiming lives through heart disease, strokes, non-healing wounds, and a whole host of other illnesses. Don't get caught in its wake—learn how to:
Guard against diabetes by discovering if you're already at risk.
Rein in runaway blood sugar with diet and exercise.
Reverse early stage diabetes to live a longer, healthier life!
Get it at Amazon.com
Get it at ChristianBook.comGet it at Barns and Noble