Overcoming Overeating: It's Not What You Eat, It's What's Eating You!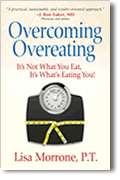 Has food become a curse in your life rather than the blessing it was intended to be? Do you struggle to lose weight and keep it off? Using methods she has honed in her own life, Lisa will guide you through the process of identifying, healing from, and moving beyond the emotions which drive your overeating. You'll soon discover how to:
Control the triggers that cause you to overeat.
Break the unhealthy cycle of fixating on food.
Keep your emotions and portions in check.
Increase your lifespan by 7-15 years!
Get it at Amazon.com
Get it at ChristianBook.com