Overcoming Back and Neck Pain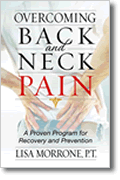 For a great independent review of this book from Armchair Interviews, click here 
Chronic pain alters your life. It often leaves you disabled—from work and everyday activities, irritable, financially stressed, sleep deprived, and ultimately depressed. Unrelenting pain saps your strength and replaces it with agony. Lisa has spent over 20 years restoring people just like you to full health. Her instruction will enable you to:
Gain control over your pain by treating it yourself.

S

leep comfortably and wake up feeling good.

Learn the right way to position yourself to avoid injury. 

Regain the pain-free life you used to enjoy.
Get it at Amazon.com
Get it at ChristianBook.com